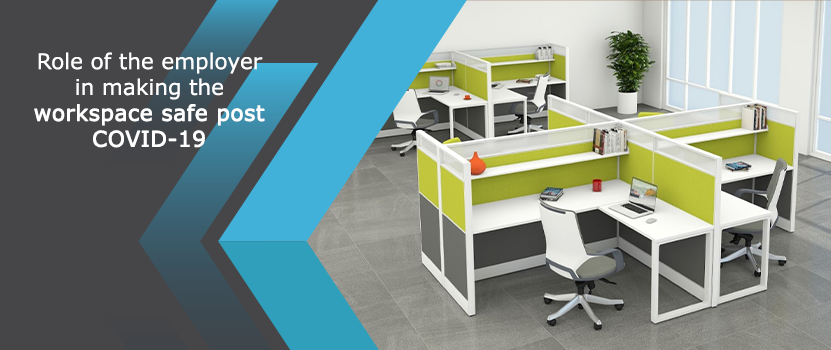 Role of the employer in making the workspace safe post-COVID
The year 2020 has brought with it so many changes that it would be absolutely safe to say, it marks the change of an era.
With a new era comes new work cultures, new designs, new approaches and a new normal at large.
While it is true that none of us is truly prepared to take on the COVID challenge, it is also true that the lockdown has given us a little time to prepare ourselves for the post-COVID era.
Employers play an integral role in making the workspaces COVID-19 compatible to sustain the productivity levels of the organisations and to ensure the safety of their team!
Here are a few basic tips that can help employers in making the workspaces safe post-COVID-19.
1. Cleanliness and Regular Disinfection is a big yes.
According to the WHO, the spread of the virus is very similar to that of the flu. This means you could catch it through virus-infected DNA entering your system. The doors to your body are your eyes, ears and mouth, which is why it is suggested that you keep them covered at all times.  A hygienic and clean office environment can help avoid the spread of the virus among your employees. Also, regular disinfection of the office on a weekly basis will help kill any virus that is still sustaining in the corners of the workspace. Contamination on surfaces touched by employees and customers is one of the main ways that COVID-19 spreads and you as a responsible employer must make sure all steps are being taken to avoid it.
2. Responsive and transparent communication to stakeholders will go a long way
Many working hours may have been lost due to WFH and the productivity might have taken a hit. It is therefore very crucial that you constantly communicate with your employees and take their comfort into consideration.
Communicate as much as you can!
3. Virtual as long as you can. Physical as long as you must.
Make sure you have come up with a strong strategy to sustain your productivity levels through virtual means. Avoid unnecessary travel as much as you can and try to take the entire operation to a virtual space.
If virtual cannot be avoided, try to conduct physical meetings only as long as it is necessary and disperse as soon as you are done.
Make all provisions for a safe working environment during your meetings.
4. Better safe than sorry (be prepared for emergencies)
It may be unlikely that any employee faces a health issue right in the middle of a working day but it is always better to be prepared. Talk to the hospitals in your vicinity and make provisions for any emergency that may occur.
5. Mental Health is important to productivity
As an organization, it is important for you to look after the physical and the mental health of employees. The monotony of WFH could get to the employee's head at times. Consider creating mental health action plans or training mental health first aiders to ensure employees feel supported and aware of the variety of resources available to them.
6. Flexibility
While mandatory WFH has created greater value for flexibility, we must continue to value it even after the lockdown ends and we go back to being normal. Flexibility improves the quality of output and also facilitates the good mental health of the employees.
It is a difficult time for all of us and the only way we can get through this is by sticking up for each other. Let your team know that you are there for them and when a pandemic hits, all factors except human life and health take a backseat.
Make your employees comfortable and give them space to work according to their convenience. Being an effective and caring employer today will help you grow tomorrow.
All the best.
Happy working!