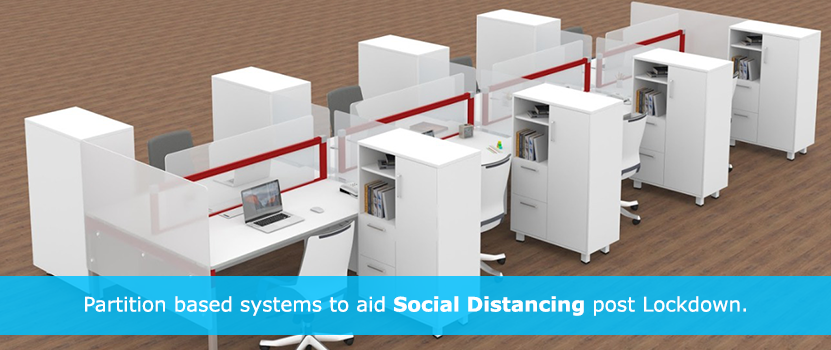 Partition based systems to aid Social Distancing post Lockdown
A pandemic dawned upon the world in December of 2019. Ever since the world has been trying to accommodate the virus.
The impact of the virus is pretty evident in the financial markets. The effect it has had on the people, businesses and the economy at large is unimaginable.
The lockdown that has been triggered by COVID-19 has surely forced all organizations to declare work-from-home for all its employees. However, a question that is not being given enough weightage is: "What happens after the lockdown ends?"
Do we go back to where we were before the lockdown or do we look forward to a more compatible and accommodating method of functioning? Do we continue to have the same confined workspaces or do we look for something that facilitates the need of the hour?
As an organization in the corporate world, it is possible that you have been wondering about the post-lockdown functioning as well? Choose an ergonomic workspace that facilitates social distancing and hygiene maintenance even after the lockdown.
While we do understand that creating workspaces which are COVID-19 repellent is not on any Manufacturer's expertise, we, at Monarch have a highly versatile team who have worked relentlessly in the past few months to deliver the best and more.
Our workspace solutions now have the following additional features
1.Social Distancing
The world is now moving towards a new normal. A new normal where social distancing is not a choice, where working employees would step back into the offices and where they would always be at risk of exposure to the virus. Thus, we have come up with workspace solutions that have bigger spaces and better protection.
2.Add-on screens to facilitate safety
The Add On screens are compatible with any desking system to maintain physical distance without compromising on the space utility factor. With a variety of screens available, one can always decide their level of comfort and security while staying safe.
3.Anti-Microbial Fabric Treatment
Antimicrobial fabrics work the same way antimicrobial soaps and sanitizers do — by attacking pathogens on a cellular level to prevent their growth and reproduction. Different chemicals and textiles have different levels of effectiveness. Some products merely slow the spread of pathogens over time, while others are designed to kill spore cells on contact. Monarch Ergo's modern and new designs use the Anti-Microbial Fabric to ensure safety and healthy workspaces.
Taking care of your employees and being thoughtful of the post-lockdown effects will help you sustain and grow in a time like this!
To know more, visit our website or reach out to us today!