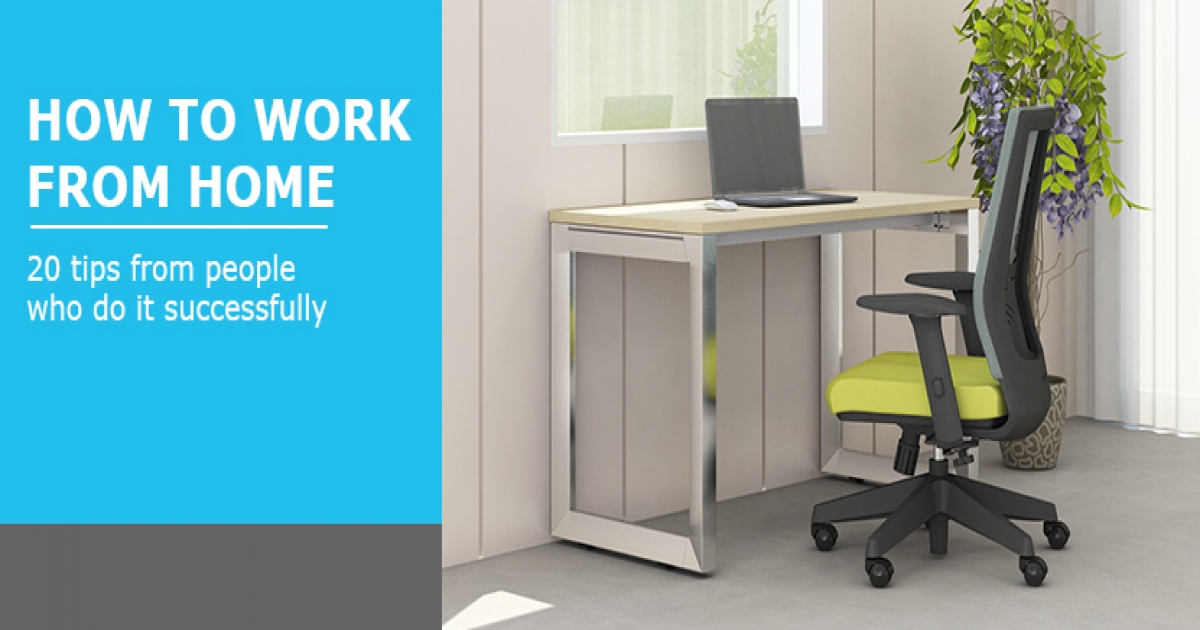 How to work from home : 20 tips from people who do it successfully
The year 2020 has put the whole world to a new regular called 'Work from Home' even for those organisations for which an office workspace is essential.
The below tips will help those who are sceptical about working from home due to the challenges it poses in terms of work-life balance, infrastructure as well as security concerns.
1. Start early and leave on time
Always start your work early. It helps you to work with full energy and concentration on the work.
2. Always remember you are in the office.
When you think that you are sitting in your office like any other day. In this way, we won't have any distraction in the work.
3. Structure your day like you would at office
In a WFH set up each one is their supervisor or manager. Plan your meetings and calls in such a way that the team is in the loop and no work gets affected. Ensure the fact that your day remains well-planned and your levels of productivity do not decrease.
4. Choose your office
When you work from home, where you sit in your office space. Find the most comfortable place at your home away from all distractions and where you can relax.
5. Step out if your plan doesn't work
If you find your home office not helping to get your work on track and deliverables, go to coffee shops or similar open space where you can sit and work peacefully. Public places with Wi-Fi access can help you to have better connectivity. But open networks pose cybersecurity threats. This should be kept in mind while using such spaces.
6. Distance yourself from social media.
It is important that you do not waste time checking social media accounts to post and share contents as they will take your time as well as concentration away from work. Make sure that you give them a specific time slot like during lunch break or after work hours only.
7. Be ready to work time flexibility
Many times the projects take more than the estimated time and may require overtime from the employees. Plan what you need to do for each task and how much time should be given for each one. Put extra effort and make sure deliverables are successful.
8. Be productive at work
Try to work on important tasks in the first half of the day when you are most productive. Everyone gets exhausted by the end of the day and your motivation might go down by that time. So work smart.
9. Save calls for the afternoon.
Try to keep the calls in the afternoon as you can use the first half of the day for more important tasks and meetings.
10. Focus on one task at a time
The widely acclaimed rule of productivity is that the more busy a person is the more that person can actually do. Focus on one task at a time and rest will come naturally to you.
11. Plan your work in advance so that your routine work does not get affected when a major project is launched.
12. Use video conferencing and instant messaging apps to connect with your fellow workers.
13. Make use of your favourite music to help you work with a calm mind
14. Use songs as your break timer. You can play your favourite list and see how much time you spent on each break.
15. Tell your family or roommate that you want privacy in your workspace and urge them to cooperate with you.
16. Take power breaks as and when you require. Since you will be sitting and working for long hours, do stretch in specified intervals so that your body is not affected by that.
17. Interact with your family and friends even while you are working like that could help you ease your tension and pressure. Be happy.
18. Do not waste time on trying to make the perfect breakfast or meal as you see in the social media platforms just because you are at home. Use your time wisely and eat on time.
19. Pick your time to end your work every day so that you do not get busy at work and end up paying little or no attention to social life. Plan your work and work accordingly.
20. Stay away from Television when you work.
While working from home can surely get monotonous, it must not let your productivity get affected.
Hoping the article has helped you.
Happy working from home.