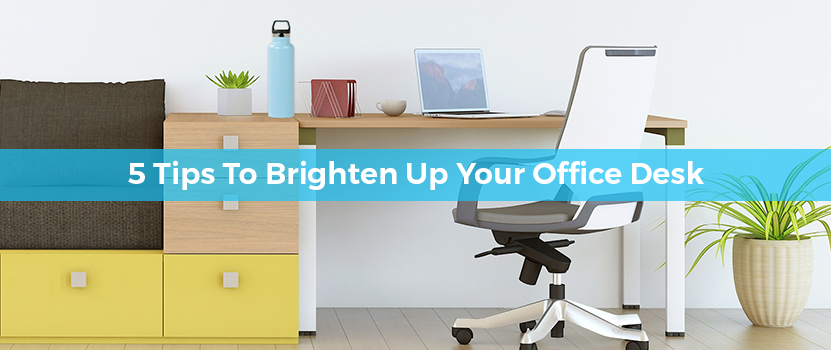 5 Tips To Brighten Up Your Office Desk
What does Your office desk say about you?
An office is a place where you spend a better part of your day. Therefore, it is only advisable to make your office space your own! Research proves that an employee yields more productivity if their desks are personalised and comfortable.
If you are starting a new job or wish to revamp your current one or if you wish to begin with a clean slate, we bring to you the top 5 Tips To Brighten Up Your Office Desk!
1. Quote Up The Post-its And Mouse Pads!
From Post-its, quirky mousepads, laptop skins to the coffee mugs and water bottles on your office Desk, everything could speak for you if you want. Quotes pinned up around your desk show what you believe in and also offers an insight into your personality and help make your office desk yours! Reading these quotes regularly could help you stay focused and further increase productivity at work! Ergonomic workspaces are known to be more effective and efficient when they are personalised for every person working in them!
2. The Biophilic touch – Plants Make People Happy
An ergonomically efficient office desk could help you stay positive and happy at work. However, comfort is not just limited to your body, but applies to your mind too! Biophilic design is the art of connecting nature with the built environment. Adding a plant, a succulent or a cactus could help your desk look pretty and positive. Your plant could also be your desk buddy and plants are known to grow faster when spoken to. Plants really do make people happy and what is more important than being happy?!
3. Consider Having A Snack Corner
Trust us when we say, your ergonomic work desk could really use a snack corner! A little something to munch on and to share with your colleagues could not only help you stay healthy but will also help you break the ice and socialise at your workspace! Snack corners can also help with your mini hunger pangs and research shows that employees or corporate professionals who munch snacks regularly at work are happier and more focused.
4. Let's Talk Stationery
It is the best time to be alive because the wide range of stationery available is literally mind-blowing! From cute sharpeners to journals and everything else, fancy stationery is in true terms soul-satisfying. Creative and attractive stationery on your desk could also brighten up your desk and make it appear all the more appealing! One of the best office tips we can give you is to get lots and lots of stationery on your ergonomic office desk!
5. Say Yes To Cushions!
If you wish to take a power nap to boost your energy or if you wish to work in a cosy and comfortable environment at work, we would highly recommend a nice cushion of your choice. Cushions are also known to improve posture at work and are highly helpful for back pain issues which are often witnessed in working professionals.
And there you go! The top 5 Tips To Brighten Up Your Office Desk! You can also come up with ideas of your own and may want to follow a trial-and-error approach with your ergonomic office desk!
Stay positive and have fun decorating your desk!
Happy decorating!